Euro Hang Tabs
Trimmer Line (Cord) on Euro Hang Tabs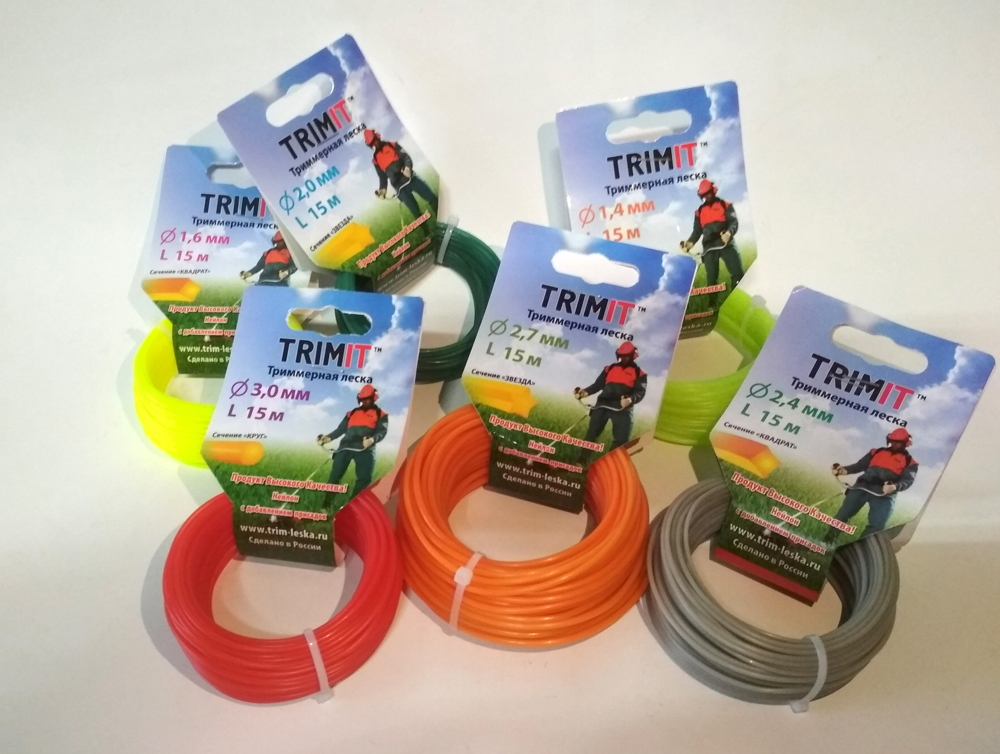 The TRIMIT cord is a high-strength trimmer line.
The TRIMIT cord (trimmer line) is made of nylon with special additives which make it resistant to baking that may otherwise occur during the operation of the trimmer. The TRIMIT trimmer line is suitable for both gas and electric trimmers.

The TRIMIT Trimmer Line Plant manufactures trimmer cord with different cross-sections: star, round and square, with the thickness ranging from 1.4 to 4.0 mm. Trimmer line with the star cross-section is suitable for precise trimming of even the hardest grass and small bushes, and also reduces the operating load on the trimmer motor, extending its service life.

The TRIMIT Plant offers TRIMIT trimmer line 15 or 25 m long on cardboard Euro hang tabs. The weight of one bulk package (80 pcs.) is 3 kg.

We offer value-priced cord (trimmer line) to all manufacturers and vendors of agricultural machinery, gardening equipment stores, and homeowners.

We can also manufacture trimmer line under your own brand.

To buy high-quality trimmer line (cord) directly from the manufacturer in bulk, call us now: +7 (966) 751-52-27, +7 (962) 707-06-84, +7 (921) 956-42-87, or place your order through our website.

Range of trimmer cord supplied in rolls on hang tabs
Product operation guidelines

Make sure the trimmer line diameter conforms to the manufacturer's specifications for the respective motor type. The trimmer line parameters must precisely match the device's capabilities. Also take the vegetation type into account when selecting the trimmer line. For example, trimmer line (cord) of appropriate diameter would be suitable for seasonal trimming of lawns or mowing of similar grass vegetation, while a multi-blade metal knife would be a better choice for bushes and perennial weeds. When working, try to avoid any contact between the trimmer line and hard surfaces, such as stones, foundations or trees. When used properly, trimmer line will serve you for a long time, allowing not only to complete the planned scope of work, but also achieve considerable savings. Use only special trimmer line – never use wire or metal cables (strings).
Always use trimmer line of appropriate diameter recommended by the manufacturer.
№
Article

Length (m)

Diameter (mm)

Cross-section

Quantity per package (pcs.)
Color
1
01015140
15/1.4
round
100
yellow/orange
2
01015144
15/1.4
square
100
yellow/orange
3
01015145
15/1.4
star
100
yellow/orange
4
01025140
25/1.4
round
100
yellow/orange
5
01025144
25/1.4
square
100
yellow/orange
6
01025145
25/1.4
star
100
yellow/orange
7
01015160
15/1.6
round
100
yellow/orange
8
01015164
15/1.6
square
100
yellow/orange
9
01015165
15/1.6
star
100
yellow/orange
10
01025160
25/1.6
round
100
yellow/orange
11
01025164
25/1.6
square
100
yellow/orange
12
01025165
25/1.6
star
100
yellow/orange
13
01015200
15/2.0
round
80
yellow/orange
14
01015204
15/2.0
square
80
yellow/orange
15
01015205
15/2.0
star
80
yellow/orange
16
01025200
25/2.0
round
60
yellow/orange
17
01025204
25/2.0
square
60
yellow/orange
18
01025205
25/2.0
star
60
yellow/orange
19
01015240
15/2.4
round
70
yellow/orange
20
01015244
15/2.4
square
70
yellow/orange
21
01015245
15/2.4
star
70
yellow/orange
22
01025240
25/2.4
round
50
yellow/orange
23
01025244
25/2.4
square
50
yellow/orange
24
01025245
25/2.4
star
50
yellow/orange
25
01015270
15/2.7
round
70
yellow/orange
26
01015274
15/2.7
square
70
yellow/orange
27
01015275
15/2.7
star
70
yellow/orange
28
01015300
15/3.0
round
60
yellow/orange
29
01015304
15/3.0
square
60
yellow/orange
30
01015305
15/3.0
star
60
yellow/orange
31
01015400
15/4.0
round
40
yellow/orange
32
01015404
15/4.0
square
40
yellow/orange
33
01015405
15/4.0
star
40
yellow/orange